To honour National Tree Week, we are celebrating the top five trees for autumn located around Capel Manor Gardens, which are situated within the grounds of our Enfield Campus.
Golden Hornet (Malus zumi)
Also known as a Crab Apple, this is a very tactile tree, and its unusual bark is its main feature. When the sun shines through the Gardens, visitors can see a spectacular effect through its branches.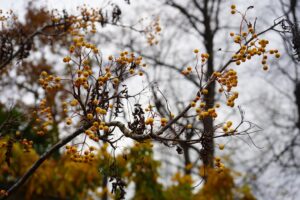 This tree is around 80 to 90 years' old, and as a medium-sized tree once mature, these are ideal for medium-sized gardens. The apples produced by this tree species are ideal for baking and making jams and jelly.
Tibetan Cherry Tree (Prunus serrula)
This eye-catching tree species was thought to be extinct and a fossil tree – until it was found still living in China.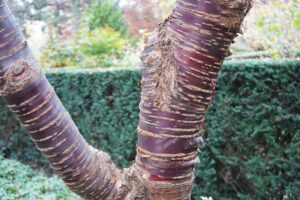 Dating back to prehistoric times, these trees have a striking bark that resembles that of a tiger's stripes. Here at Capel Manor Gardens, we have an eye-catching parade of Tibetan Cherry Trees, that are a must-see.
Scots Pine (Pinus sylvestris)
Originating from Scotland and its national tree, Scots Pine is an evergreen conifer native to northern Europe. Mature trees grow to 35m and can live for up to 700 years.
The bark is a scaly orange-brown, which develops plates and fissures with age. The Scots Pine is a keystone species, forming the 'backbone' on which many other species depend.
Japanese Maple (Acer palmatum)
Our Japanese Maple is a beautiful, brilliant red tree that really knows how to make an impact.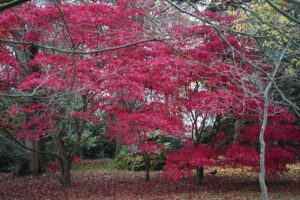 Centuries old, this is a very special species of tree, and is a very popular with visitors to our Gardens.
Tulip Tree (Liriodendron)
The Tulip Tree is native to eastern North America and was introduced to Britain in the 17th century. It is named after its flower which resembles a tulip.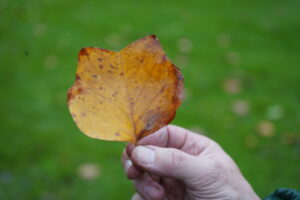 It is a large ornamental tree, quite common in large gardens and parks, and is also a member of the Magnolia family.
Visit Capel Manor Gardens
Explore over 30 acres of beautiful themed Gardens, visit the animals in our zoo and have fun finding your way through our holly maze!
Study Arboriculture and Forestry
Are you interested in specialising in caring for and maintaining trees, woodlands and forests? Take a look at our arboriculture and forestry courses here, and discover the perfect course for you.