Spring is a time of renewal and rejuvenation, when nature unfurls its vibrant colours and fragrant scents. Our Gardens offer a picturesque haven for horticulturists and gardeners alike, especially during the month of May.
Plants to look out for in our Walled Garden:
Double-Leaf Tulips
As you stroll along the main walkway of the Walled Garden, you will be spellbound by the sight of our double-leaf tulips. These magnificent tulips, affectionately known as Diddlia's tulip, bear a striking resemblance to peonies with their vibrant hues. Their lush, voluminous petals unfold like delicate layers of silk, creating an alluring display of colour and texture.
Camasia
Camasia belongs to the asparagus family and is native to North America. Its long, purple flowers stand tall and proud, infusing the landscape with a regal elegance.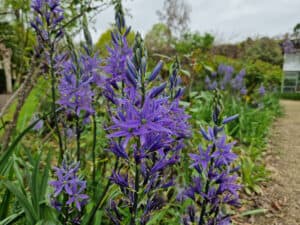 Rhubarb Grown in the Dark
As you explore further, discover an intriguing cultivation method used by our gardeners for rhubarb. Grown in the dark under closhes or even in chimney pots, the rhubarb's stems are rendered sweeter and more tender producing a delicate balance of tartness and sweetness.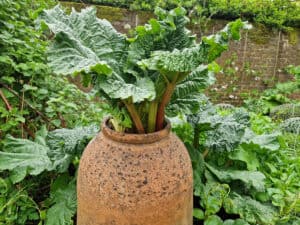 Japanese Bitter Orange
The Japanese Bitter Orange, officially known as Ponsirus Japonica, is a standout gem in our Walled Garden. Its yellow-green leaves provide a captivating backdrop for the small, fragrant white flowers that adorn its branches.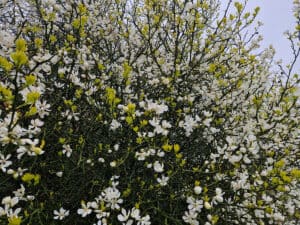 Honesty – Autumn's Silver Penny Revealed
Though commonly known as Honesty in the autumn months, this plant surprises visitors with its vibrant display in the springtime. Its pinkish-purple, four-leaf flowers create a visual delight, capturing the essence of delicate beauty. The Honesty plant, with its translucent and shimmering seed pods, adds an air of mystique to the Walled Garden, hinting at the wonders yet to come.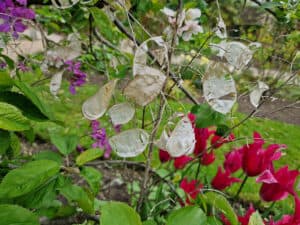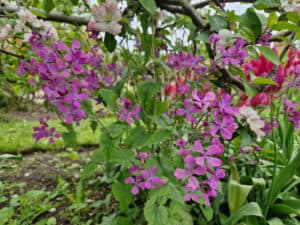 Plants to discover on the back lawn of the Manor House:
Shuttlecock Fern
As you embark on your stroll through the Gardens, you will come across the extraordinary shuttlecock fern. With its green curly leaves resembling the elegant tails of seahorses, this fern is a native species to Britain. Growing in the distinctive shape of a shuttlecock, it is a crown in the landscape with its bright vivid green fronds.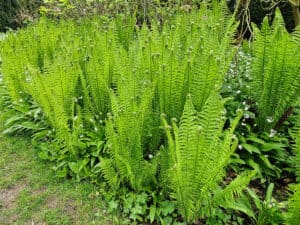 Pink Rhododendrons
As you look across the lawn you will be greeted by a grand display of pink rhododendrons in full bloom. Standing tall and proud, these magnificent flowers paint the landscape with their vibrant hues. Their colourful petals create a striking contrast against the backdrop of lush greenery.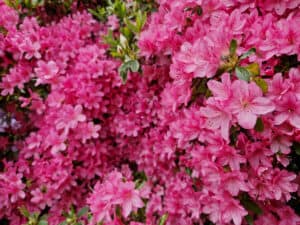 Wild Garlic
Continuing along the path, you will encounter wild garlic in full bloom. Its clusters of dainty white flowers create a captivating and even magical scene, especially when you reach the Fairy Forest. Not only are the flowers visually stunning, but the leaves and bulbs of wild garlic are also edible. Known for their pungent aroma and garlicky flavour, these leaves are often used in cooking and as a key ingredient in the beloved pesto sauce.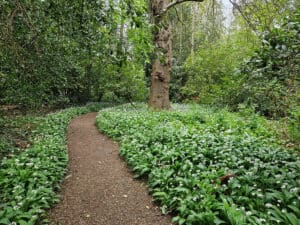 Azaleas
Belonging to the rhododendron family, these attractive flowers come in a variety of colours, and in May, the yellow azaleas steal the show. Their sweet fragrance permeates the air, creating a truly immersive sensory experience as you walk alongside our Koi pond.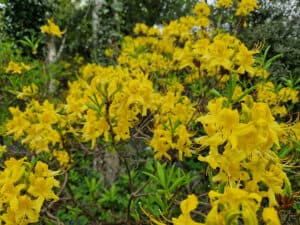 Whether you are a gardener, nature enthusiast, a photography lover, or simply seeking a tranquil escape, Capel Manor Gardens offers an unforgettable experience that celebrates the beauty of our natural world. Home to London's environmental college, our Gardens showcase the innovation and artistry behind horticulture, making each visit a fascinating learning experience.