As the days grow shorter and the air turns crisp, November brings a captivating transformation to Capel Manor Gardens. Join us on a winter walk through the Gardens, guided by our Head Gardener, Mark Cook, as he shares the enchanting autumnal beauty that graces our 30-acre estate.
Japanese Acer (Acer Palmatum) – Japanese Garden
In the Japanese Garden, nature paints a canvas of radiant reds with the exquisite Japanese Acer. These vibrant hues have long been a favourite of both gardeners and visitors, adding a touch of elegance to the autumn landscape.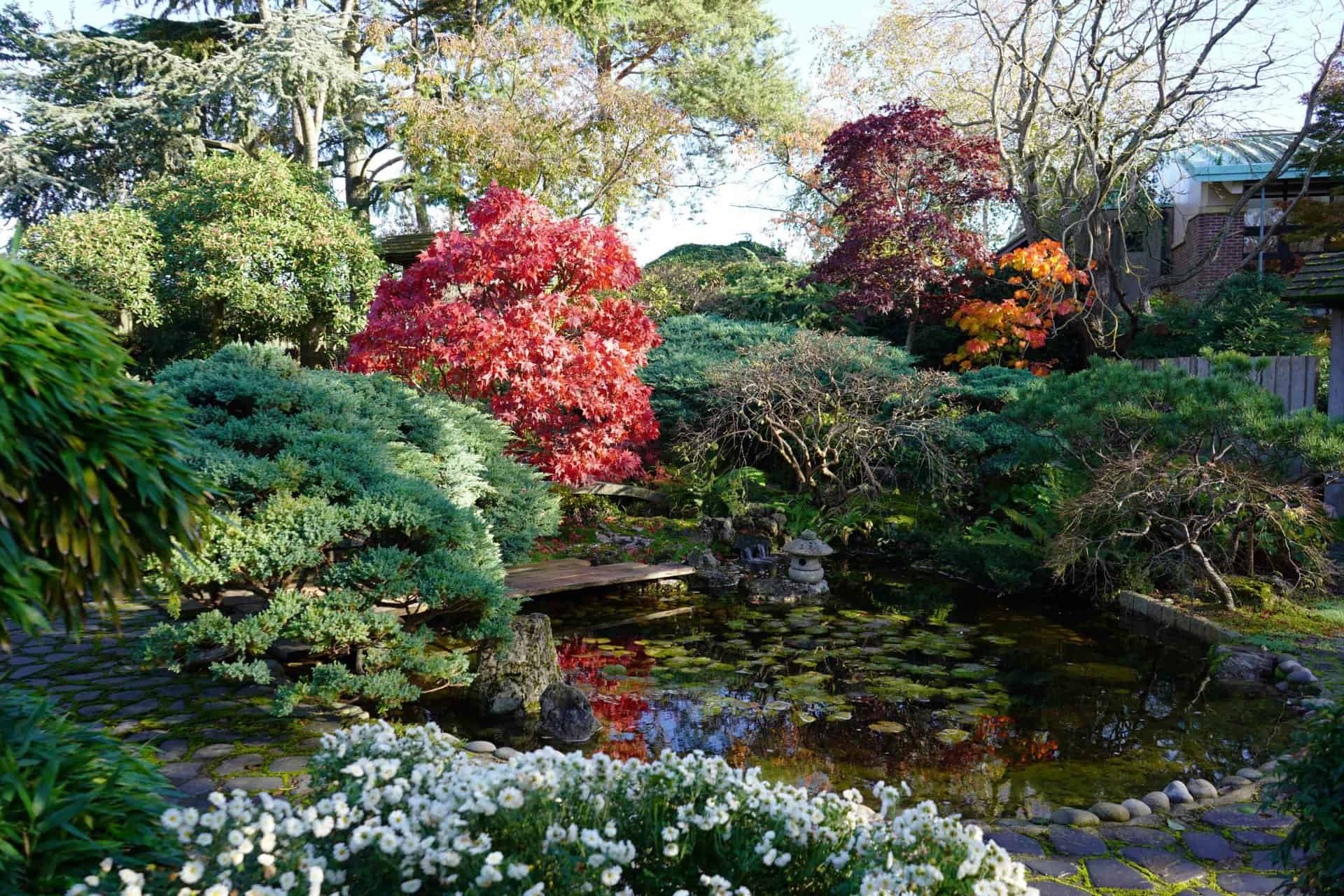 Orange Acer (Acer Palmatum 'Orange Dream') – The Queen Mother's Garden
The Queen Mother's Garden offers a splendid spectacle with its larger-than-life "Orange Dream" Acer. This striking tree displays a full spectrum of warm colours, casting a magical aura over the garden, alongside its red and orange companions in the Japanese Garden.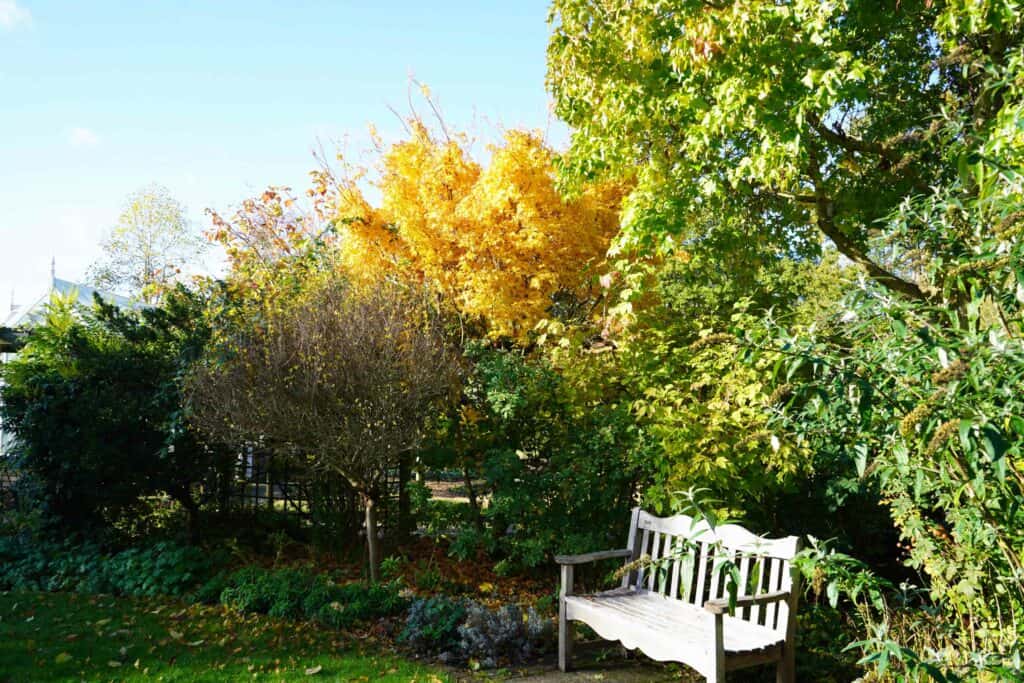 Winged Spindle or Fire Bush (Euonymus alatus compactus) – Sunflower Street
Opposite Sunflower Street, the Winged Spindle, or Fire Bush (Euonymus alatus compactus), is not only known for its stunning transformation of green leaves into brilliant shades of strawberry-red in the autumn but also for its distinctive corky "wings" that develop along its stems. These wing-like growths add an intriguing and unique texture to the plant, making it a captivating and visually appealing addition to our Gardens.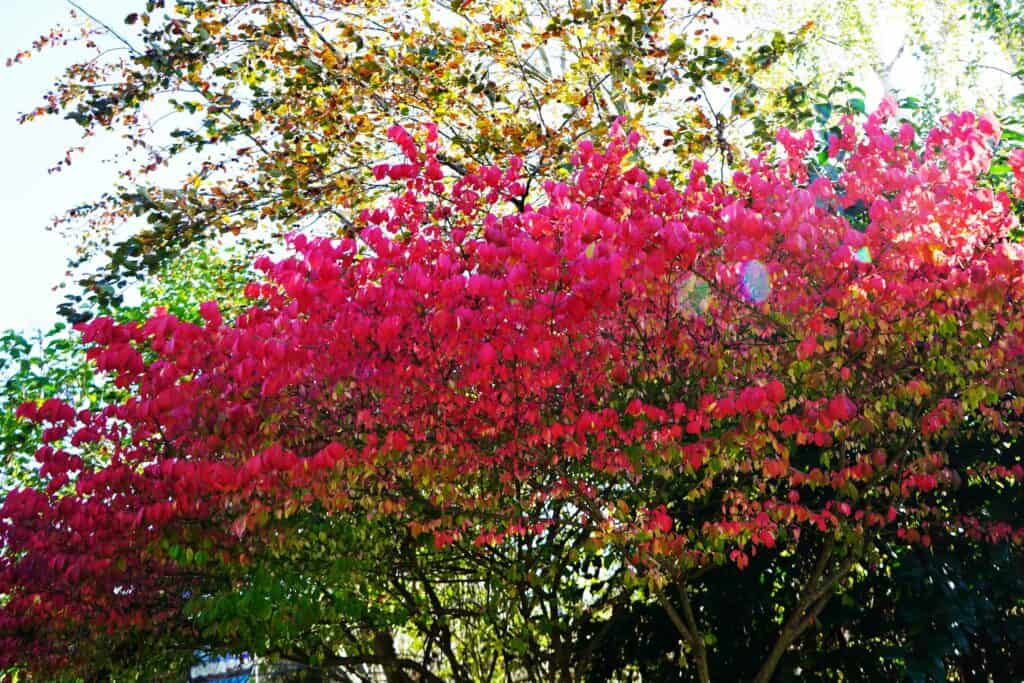 Sweet Gum (Liquidambar) – National Gardening Centre
While Sweet Gum trees typically unveil their vibrant colors in late December or January, we are fortunate to witness an early-changing variety towards the end of the National Gardening Centre. These trees offer a captivating spectrum of autumn hues, making them a popular variety among our gardeners.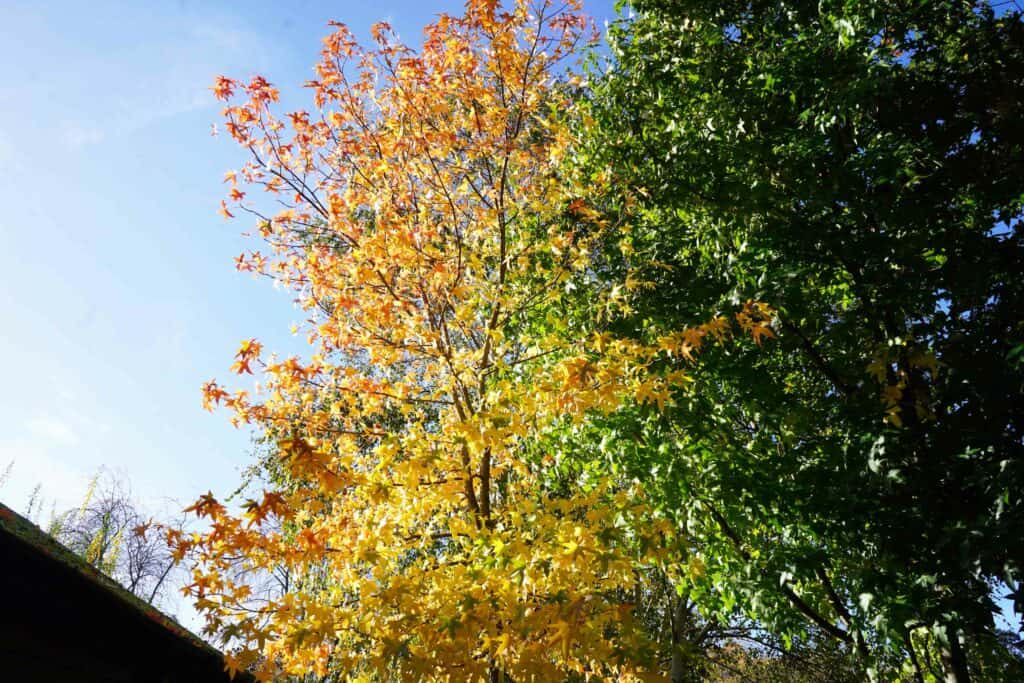 Scarlet Oak (Quercus Coccinea) – Manor House and Fairy Garden
Towering above the rest, the Scarlet Oak trees boast a breathtaking display of fiery-red foliage. You can find these majestic trees along the main path by the Manor House and towards the enchanting Fairy Garden. Named for their autumn splendor, they are a true testament to the season's brilliance.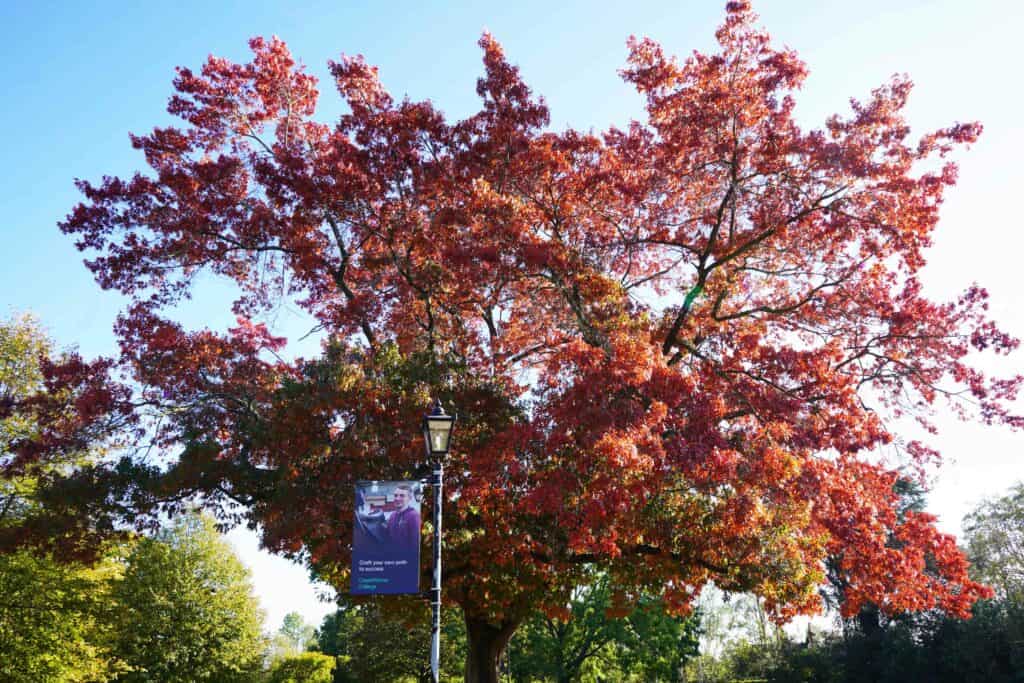 Blossom Tree (Prunus Okame) – Outside the Manor House
Outside the Manor House, stands the Prunus Okame, a plant that has graced our gardens in various seasons. Mark Cook, our Head Gardener, holds a special place in his heart for this shrub as it transitions from yellows to deep oranges, offering a year-round display of enchanting colours.
Tulip Tree (Liriodendron Tulipifera) – Back Lawn
In spring, these trees dazzle with bright lime green leaves, and in summer, they showcase unique tulip-shaped blossoms. Now, in autumn, the Back Lawn is adorned with magnificent Tulip Trees, flaunting dramatic yellows and oranges that define the season's grandeur.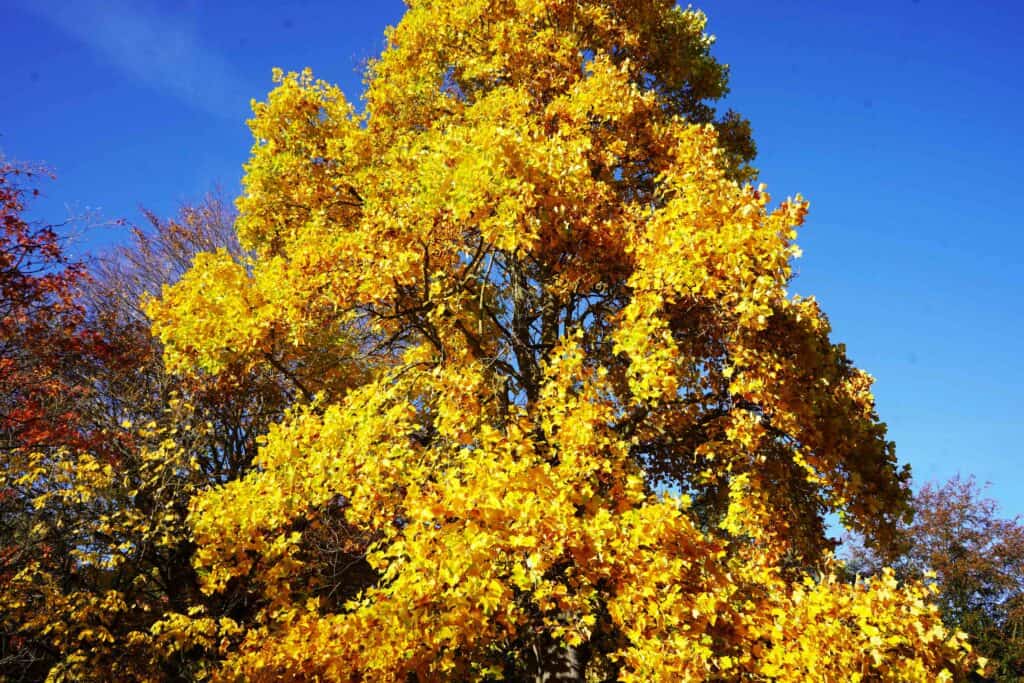 Japanese Acer (Acer Palmatum) – Behind the Maze
In our quest to discover the finest red Acer in the Gardens, we journey behind the maze where a breathtaking spectacle awaits. This remarkable tree is well on its way to becoming the autumn's crowning glory, promising a visual feast for visitors.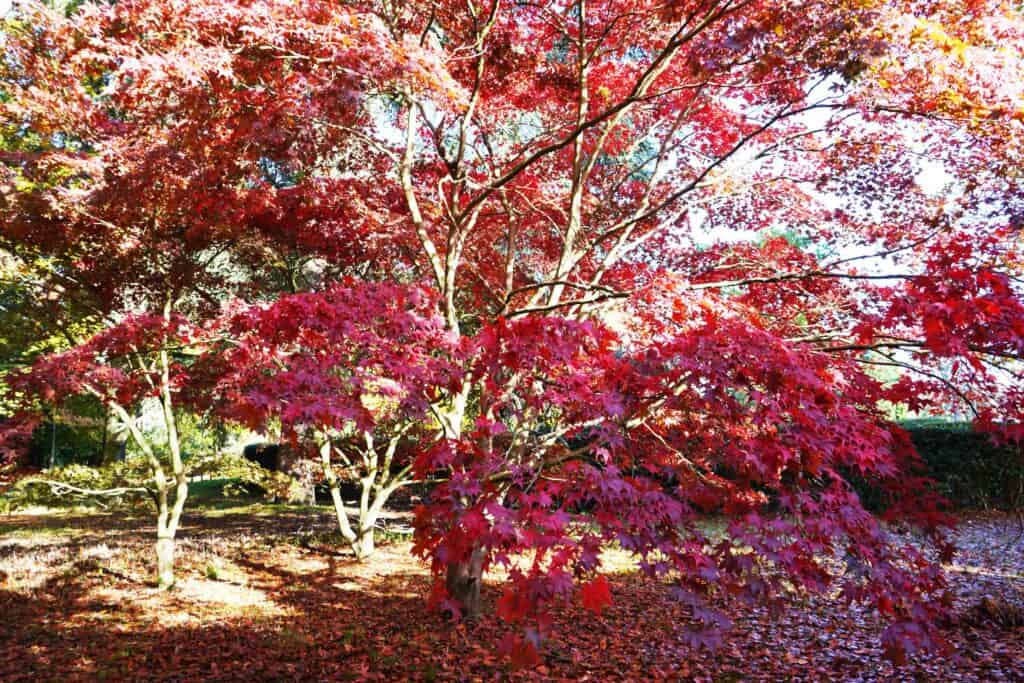 Smoke Bush (Cotinus Coggygria) – Historical Gardens
Nestled within the Historical Gardens, the Smoke Bush is a true gem. Its dark red and purple mottled leaves create a captivating tapestry. During summer, masses of tiny pinkish flowers adorn its branches, eventually falling in autumn, leaving behind stems that resemble clouds of delicate smoke.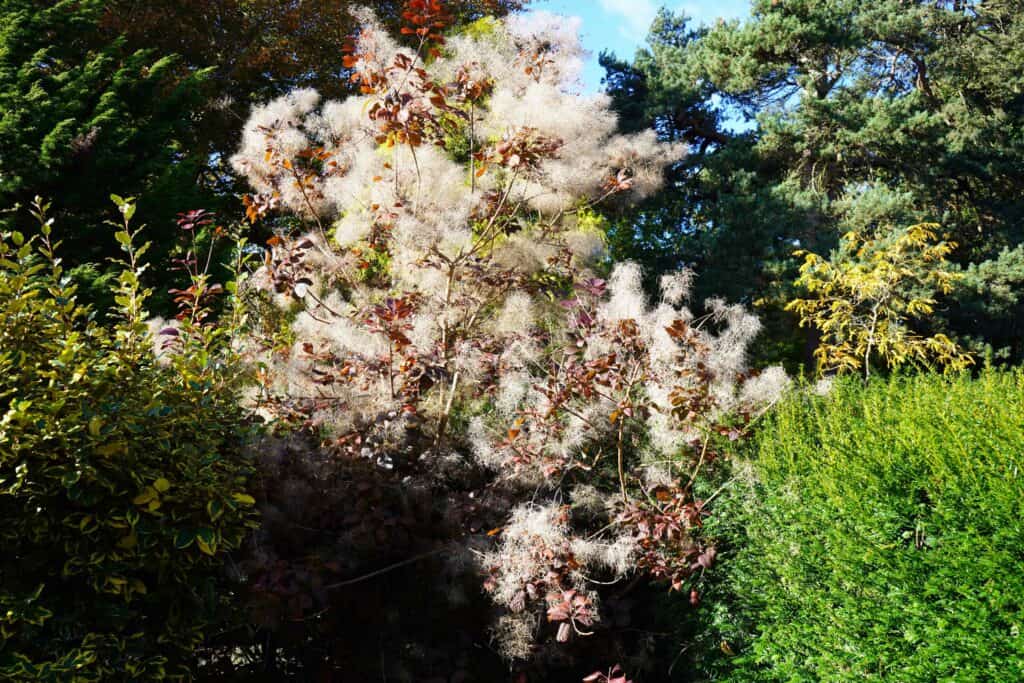 Join us on a leisurely walk through the Gardens to embrace the breathtaking transformation as we bid farewell to autumn and await the arrival of winter's enchantment.